Get Started
This course is currently closed
Please note that there is nothing to complete on this page.
This Annual Membership module is automatically populated on your dashboard when you subscribe to an annual membership through a certification course registration or direct membership purchase.
Wondering when your AIHC Membership expires?
You can check your expiration date and renew your AIHC Membership from your dashboard or go to the RENEWALS page for more details and available CEU options: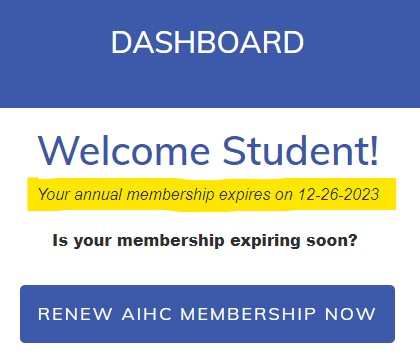 Member Benefits
Membership – What does it mean for you?
1. Supporting the continuation of healthcare compliance
2. Being affiliated with an international non-profit organization
3. Receiving discounts on training and certification opportunities through AIHC
4. Ability to purchase discounted books and reference material through our vendor
Our members have been telling us what it means to them! Here are just a few comments we receive:
"I am proud to be part of a non-profit organization."
"Membership dues are reasonable and course content is more than worth what I received for my training."
"Online, even with an instructor, it is difficult for me due to my busy schedule at work and home. I am so thankful that I am able to start my training Online and convert to a classroom camp to finish and certify! Best of both worlds – immediate start with benefits of classroom participation and interaction with qualified instructors."
"After my first certification through AIHC, I received a promotion. Over the years I have continued my professional growth and appreciate the guidance counseling to point me in the right direction."
"I belong to several professional organizations. AIHC accepts CEUs from most national organizations, making it easier for me to keep my coding, HIM and AIHC credentials all up to date. I love the opportunity to earn free CEUs!"
Annual Membership Fee
Our membership dues remain lower than other organizations because we strive to be "green" by communicating through electronic means (website, e-mail, and internet). All you need to do to maintain your membership in good standing is pay the annual membership fee by your renewal date! No matter how many credentials you hold with AIHC, to maintain your credential(s), you need to pay the annual membership fee and submit the required CEUs by your renewal date!